I am doing another franchise for you to follow this season with this years installment of MLB The Show. It will work much like last's year franchise that you all loved and followed, however with an added twist. Rick will also being performing his own franchise, and we will be competing head to head to see who can run the Bluejays franchise more effectively and lead them back to the glory days. There are sure to be cash prizes involved. I hope to update this often, maybe in-game weekly or series by series, that is still TBD. Hope you enjoy following along, and may the better GM win. The Jays have got a new logo, spirits are high, and the sky's the limit this season!
I'll start with a little season preview:
Starting lineup:
SS - #5: Yunel Escobar
Escobar bumped up his walk rate to a career high in 2011, and his batting average on balls in play rebounded to 2008-09 levels, resulting in a .290 average after a disappointing .256 mark in '10. But, a high ground-ball rate suggests the 29-year-old is unlikely to exceed his career high of 14 homers, and he's no threat on the basepaths either. In other words, he's essentially a one-trick pony at the plate, and that trick is a relatively fickle offensive stat.
2B - #2: Kelly Johnson
Johnson's strikeout rate has climbed by nearly nine percent since 2008, leading to sub-.230 averages in two of the past three seasons -- a trend that's seen him change addresses twice despite solid power output for a middle infielder. Now in Toronto, Johnson will need to improve his approach at the plate if he hopes to move out of the bottom third of the Blue Jays' batting order.
RF - #19: Jose Bautista
Bautista showed last year that his breakout 2010 campaign was no fluke, leading the Majors in home runs for the second consecutive season. He displayed an improved ability to get on base despite going deep 11 fewer times in '11, notching a .302 average -- nearly 50 points above his career mark. Take note that opposing pitchers walked Joey Bats 132 times last year, meaning his bat will frequently be silenced in big situations if Toronto can't find him some lineup protection.
1B - #26: Adam Lind
Lind was batting .312 with 16 dingers and 49 RBIs at the end of June, seemingly on his way to reestablishing himself as one of the game's feared power bats despite missing much of May with an injury. Things took a turn for the worse over the season's final three months, however, as the lefty swinger posted a .203 clip with just 10 homers and 38 RBIs. On the bright side, Lind showed improvement against southpaws throughout the season and managed to club at least 23 dingers for the third straight season. An average north of .270 may be asking too much, but there's plenty of value in knowing how to turn a mistake pitch around.
3B - #13: Brett Lawrie
The first half of 2011 turned into a waiting game for Lawrie fanatics, as the Blue Jays prospect was poised for a callup until his promotion was delayed by a fractured left hand. When he finally did join the big league club (thanks to a 1.060 OPS in 73 Minor League games) Lawrie didn't disappoint, posting a .293/.373/.580 line with nine homers, 25 RBIs and seven steals in just 150 at-bats. The fractured finger that cut his season short didn't require surgery, and the 22-year-old will slot right into the middle of a potent Toronto order. Get ready for a monster sophomore campaign.
DH - #10: Edwin Encarnacion
Encarnacion made good on some of his monster potential in last season's second half, hitting .291/.382/.504 with 11 homers, 36 RBIs and seven steals in 64 games. Even better, Encarnacion trimmed his errors by a third compared to 2010, providing hope that the man they call "E5" can be more than a designated hitter moving forward. As long as he gets the at-bats, Encarnacion should easily bash 20 long balls in his age-29 season.
LF - #14: Eric Thames
An unexpected contributor last season, Thames forced his way into Toronto's Major League picture with a .352/.423/.610 line over 53 Triple-A games. The 25-year-old showed solid power in a half-season hitting in front of superstar Jose Bautista, and despite a high strikeout total and inconsistent defense, Thames beat out Travis Snider and Rajai Davis for the Blue Jays' starting left field job.
C - #9: JP Arencibia
Arencibia's 23 long balls ranked fourth among catchers in 2011, but a .219 batting average wasn't pretty. The 26-year-old has enormous power but struggles to control the strike zone and swings and misses with alarming frequency. An increasing line-drive rate suggests that Arencibia made some progress in the second half of his rookie season. Even with monster pop, he'll need to continue improving his approach before moving up in Toronto's lineup.
CF - #28: Colby Rasmus
After 2 1/2 seasons of inconsistent production at the plate and squabbles with team management in the media, the Cardinals shipped Rasmus to the Blue Jays prior to last season's Trade Deadline. While many thought that a change in scenery would yield immediate dividends for the 25-year-old, a .173 average with three homers and no steals in 35 games said otherwise. A .251/.322/.432 line in 420 big league games shows that the erstwhile future star needs a fresh start and a new approach. If John Farrell can help him achieve that in Toronto, there's still plenty of time for Rasmus to make good on his five-tool potential.
SP - #24: Ricky Romero
It's not easy to walk away with a sub-3.00 ERA in the rough-and-tumble American League East, but that's exactly what Romero did with a career-best 2.92 mark last season. While that's certainly an accomplishment to be proud of, the 27-year-old southpaw saw a huge upswing in HR/FB rate which was only negated by an unsustainable 79.2 percent strand rate. Romero is one of the league's brightest young hurlers, but his stellar '11 numbers may be in line for some correction this year.
Bench
C Jeff Mathis
SS Omar Vizquel
LF Rajai Davis
CF Ben Francisco
Starting Rotation
Ricky Romero
Brandon Morrow
Henderson Alvarez
Kyle Drabek
Jesse Litsch
Bullpen
Dustin McGowan
Darren Oliver
Casey Janssen
Carlos Villanueva
Francisco Cordero
Jason Frasor
Sergio Santos
The season opening series is in the books, and the Jays could not be happier to be out of Cleveland after a truly embarrassing series where they found themselves swept at the hands of the Indians.
Game 1 - April 5, 2012 - Toronto Blue Jays (0-0) vs. Cleveland Indians (0-0)
Ricky Romero (0-0) vs. Ubaldo Jimenez (0-0)
Opening day came and went for the Cleveland Indians without having to break a sweat in extra innings The Bluejays were unable to get anything done offensively and were embarrassed at the plate all game long. Jimenez (0-0) pitched 7 innings, allowing 1 hit and 1 run and striking out Bluejay batters 17 times. That is not a type, 17 times. Jimenez ran into some trouble in the 7th inning by leading hitting the lead off batter, Bautista, then walking Lind and allowing a RBI single by Brett Lawrie to tie up the game, but was able to keep the damage at a minimum. Sipp came in relief, and played the next 4 innings allowing 2 hits and notching 5 Ks.
Ricky Romero (0-0) played 8 innings allowing 11 hits and notching 7 strikeouts. Romero allowed more hits than he would have liked but was able to work himself out of jams, and stayed cool, calm, and collected on the mound. Casey Janssen (0-1) was credited with the loss after loading the bases in the bottom of the 11th, and allowing a shot up the gap for the winning run.
"We've just got to do better at the plate, that was abolute garbage, what you saw out there today." Jays skip Farrell said post-game "These are professionals, and they went out there and embarrassed themselves...yeah I'm pissed off" No players were willing to comment after the game.
Game 2 - April 7th, 2012 - Toronto Blue Jays (0-1) vs. Cleveland Indians (1-0)
Brandon Morrow (0-0) vs. Justin Masterson (0-0)
The Bluejays came in to the game after a days rest hoping to avenge the spanking they took at the hands of the Indians on opening day. Morrow (0-0) comes into this season hoping to build off the solid season he had last season, and he picked up right where he left off, striking out batters left and right. He came into some trouble throughout, raising his pitch count causing him to come out of the game after 6 innings pitched in a tied game at 2-2 allowing 4 hits. The Bluejays want to work Dustin McGowan (0-1) into the game through relief situations to see if he is fully rehabilitated before placing him in the starting rotation again. This was not the welcome return McGowan had envisioned, allowing 4 hits and 3 runs in 1 inning of play while taking the loss. "I felt good out there, I felt that I was getting the pitches where I wanted them, they were just making contact." McGowan said after the game "I just have to keep working hard everyday, and the wins will come." If he felt comfortable on the mound today, I would hate to see what it is like when it is uncomfortable.
The final score was 5-2, Masterson picking up the win and Chris Perez picking up his first save of the season. The Jays will turn to Alvarez tomorrow to avoid the sweep and pick up their first win of the season.
Game 3 - April 8th, 2012 - Toronto Blue Jays (0-2) vs. Cleveland Indians (2-0)
Henderson Alvarez (0-0) vs. Josh Tomlin (0-0)
Another game, another loss. The Jays need answers and they need them fast. A once hopeful and optimistic fan base may be having their hearts broken right in front of them before they could even go in for the first kiss. This game was better for the Jays all around though. They produced hits, Bautista finally got on the board with his first hit of the season, and the Jays were able to manufacture some runs. Alvarez (0-0) pitched 6 innings allowing 4 hits and 2 runs, and came out of the game in a tie game. The Jays once again turned to the bullpen and gave Carlos Villaneuva (0-1) the reigns. Carlos Villanueva must have thought he was still warming up when he faced his first batter because he served up a nice juicy, high hanging fastball that Jason Kipnis sent the other way for a solo home run and the game winning run.
"we just have to put this series behind us" Bautista said "the beauty of baseball is that there are 162 games and we still have a chance to make some noise this season, and now we get to head home and face Boston in front of a crowd that is sure to be behind us and electric..can't wait"
The Jays will have their home opener against Boston, and will look to put this dreadful opening series behind them.
--
I'm gonna try and do updates after every series...maybe not as long though. Update standings every once in a while. Any suggestions on what else you'd like to see?
Last edited by B-Dizzle on Wed Apr 18, 2012 2:30 pm; edited 1 time in total
Your Toronto Blue Jays returned north of the border for their home opener series against the AL East rivals the Boston Red Sox. The Blue Jays came away with 2 victories putting them at a 2-4 record.
Game 4 - April 9, 2012 - Boston Red Sox (1-2) vs. Toronto Blue Jays (0-3)
Daniel Bard (0-0) vs. Kyle Drabek (0-0)
This year's home opener is one the Jays would love to forget, as the Jays were pounded 9-1 handing them their 4th straight loss. Kyle Drabek (0-1) entered the game nervous and it showed, as Boston abused him on the mound. Kyle Drabek threw 53 pitches after only 2 innings of play, but was able to walk away from those 2 innings only down 2-0. Kyle Drabek shook off those early game jitters and was solid until the 7th innings where fatigue settled in and the Bo Sox abused him again, as he allowed hit after hit and gave up 6 earned runs.
"wow..that's not what I worked hard for all through spring training for.." Drabek said after the game. However, Drabek was not the only one to blame. The Jays batters were stiffled at the plate, only mustering 4 hits. Daniel Bard (1-0) was in the zone all game long pitching a complete game. His slipped once and left a high hanging curveball where Lind made no mistake and took it the distance, accounting for the Jays only run.
All was not lost for the fans, as it was free promo day today and the first 15 000 fans took home a free promo that they will probably lose in a very short time.
Game 5 - April 10th, 2012 - Boston Red Sox (2-2) vs.Toronto Blue Jays (0-4)
John Lackey (0-0) vs. Jesse Litsch (0-0)
The Jays did it! Their first win of the season as the beat Boston 6-0. Jesse Litsch (1-0) played a gem of a game pitching a complete game shutout, throwing 101 pitches. It did not come without drama. In the top of the 9th Boston had runners on the corners with 1 out. A sac fly was hit to deep right field where Bautista made the catch, and the runner at third tagged up. It looked as almost a certainty that the runner would score with ease, ruining the shutout, but Bautista reached back and made an amazing throw to throw the runner out at home securing the win and preserving the shutout for Litsch.
Game 6 - April 11th, 2012 - Boston Red Sox (2-3) vs.Toronto Blue Jays (1-4)
Josh Becket (0-1) vs. Ricky Romero (0-0)
The Jays picked up their second straight win in a game filled with excitement for the fans. Both Becket (0-2) and Romero (1-0) seemed to be unstoppable on the mound. Until the 6th inning where Romero seemed to lose focus and gave up 2 home runs and 3 earned runs but was able to work himself out of the inning. The Jays responded in a big way in the bottom of the inning. Rasmus led off with a double to center field, followed by a walk to Escobar. With the tying run at the plate, Kelly Johnson went yard to tie the game. The excitement didn't end there. Johnson's home run was followed by a jack from Jose Bautista and Adam Lind, with back to back to back homeruns giving the Jays a 5-3 lead. This was Bautista's first home run of the season and his bat is starting to heat up along with the rest of the bats around him.
Sergio Santos was given his first save opportunity of the season, and he made quick work of Boston in the bottom of the 9th.
The Jays will have a day off and then the Baltimore Orioles will come into town for a 3 game series.
So I haven't been updating this every series because truthfully it is more work than it is worth, so I am just going to do season ending recaps, and post on really important events throughout the season. If you would like to follow my team game by game, be sure to follow me on twitter @bramorim24

After 18 games, we are 6-12...which is a lot worse than where we had hoped to be, and currently 6 games behind first place in the AL East; here are the standings..

Boston Red Sox 12 -6
New York Yankees 11-8
Tampa Bay Rays 9-9
Baltimore Orioles 8-10
Toronto Blue Jays 6-12

A little win streak can get us right back in the race...Now for some key team statistical rankings

The Blue Jays rank dead last in the league in batting avg. at .212. This number will have to increase if they hope to make any sort of noise in the standings. Jose Bautista leads the team at .243. JP Arencibia has been dreadful only batting .022 after 15 games played.
The Blue Jays are tied for 13th in home runs, sitting at a healthy 17...only 9 behind first place. Jose Bautista also leads this category for the Jays with 5 dingers.
The Blue Jays rank 26th in RBIs at 49...which is to be expected with their poor batting avg. Kelly Johnson and Jose Bautista are tied for the lead with 10 RBIs each.
The Blue Jays rank 1st in Stolen Bases accumulating 20 and with Rajai Davis leading the team with 10 of those.
The Jays are the worst in the MLB for strikeouts, with their batters amounting more than 100 more than the next worse team.
Blue Jays pitching staff has a 3.89 ERA making them the 24th ranked team in the league, with 3 blown saves to go along with that number.

The rumour mill has been spinning as well. Through the grapevine it has been heard that the Jays are trying to send Sergio Santos and JP Arencibia packing, but have to wait for the right package to come along. Sources have said that the Jays have made an effort to work with the Giants to work out a trade that would see C Buster Posey make his way north of the border, but the teams are still far apart on an agreeable deal.

A 6-12 record may be enough to hold onto the lead this season in the MLB 12 The Show showdown, but if this Jays team wants to continue to come in first, they'll need to grab far more wins.
Hey guys,
as you know I have purchased MLB the Show and have started my franchise. A few notes to explain what I have done:
I began my season and played to a record of 1-27 before I realized how my poor performance had effected my team's morale greatly and I was starting every game with poor pitching confidence and all my hitters had poor contact. I decided to restart my season because of this and also because you guys were suspicious of how i acquired Halladay and McCutchins since you could not pull off similar trades in your season. I have simply simmed up to game 36 to be with you guys and wrote off my 1-27 season as practice.
In my new season I was not able to do the same trade (Johnson for Halladay) but halfway through simming I stopped to check on my team and found an issue with my pitching so I went after a starting pitcher. First I went after Clay Bucholtz and thought I had a pretty good deal that got rejected. I went back after Halladay and this is what I was able to do:
Acquired:
SP - R. Halladay
RP - A. Bastardo
3B - P. Polanco
For:
RP - D. Oliver
3B - E. Encarnacion
C - J. Mathis
The only player I lost who I was sad to see go was Encarnacion who had good numbers for me but Polanco basically replaces him as my backup 3B. Bastardo was a younger RP then Oliver and less talented but I was fine with that trade off because we acquire the dominance of Roy Fucking Halladay

and I was happy to get rid of Mathis who is just shit.
So after simming 36 games, my Jays were 16-20. Not too bad. I wrote down my team's ranks prior to game 37 so I know how bad I am. My offense ranked about 16th for most things. We are 5th for HRs and 2nd best in Strikeouts taken so I will know I'm terrible when I end up 30th. My pitching was much worse averaging around 24th best. I apologize for my first images as I did not realize my phone camera was so shitty and I will be using a high quality coolpix camera in the future.
Game 1:
I realize this is almost impossible to see so here is the scoring line:
Tampa Bay 0 2 0 0 0 0 0 0 0 / 2 6 0
Toronto BJ 0 0 0 0 0 0 0 0 0 / 0 7 1
Win - James Shields (2-5)
Loss - Brandon Morrow (1-4)
Save - Kyle Farnsworth (12)
Game 2: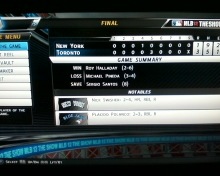 Again here is the scoreline:
New York 0 0 0 1 0 0 0 0 0 / 1 9 2
Toronto B 0 0 0 0 3 0 0 0 0 / 3 5 1
Win - Roy Halladay (2-6)
Loss - Michael Pineda (3-4)
Save - Sergio Santos (8 )
And with that Halladay picked up his first win with the Blue Jays

I am now 1-1 on season 3. I'm sure I will play more later.
GM Stephan Petersen
Game 3: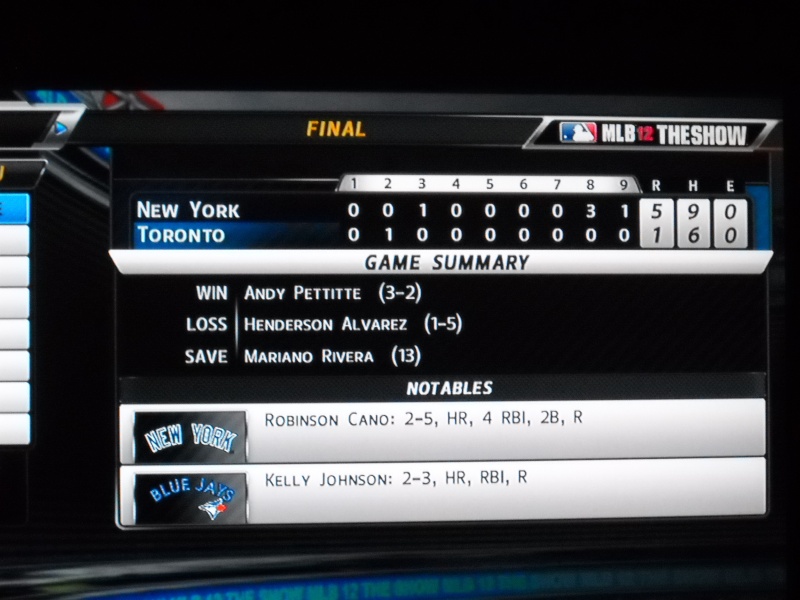 from this point on i will post once i finish a series.
GM Stephan Petersen (the swindaler)
SERIES WITH METS:
Game 4: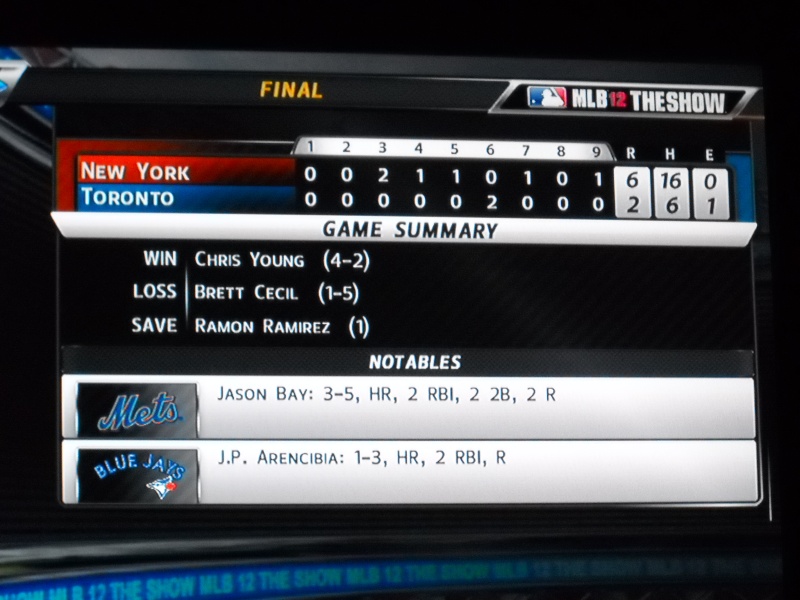 Game 5:
Game 6: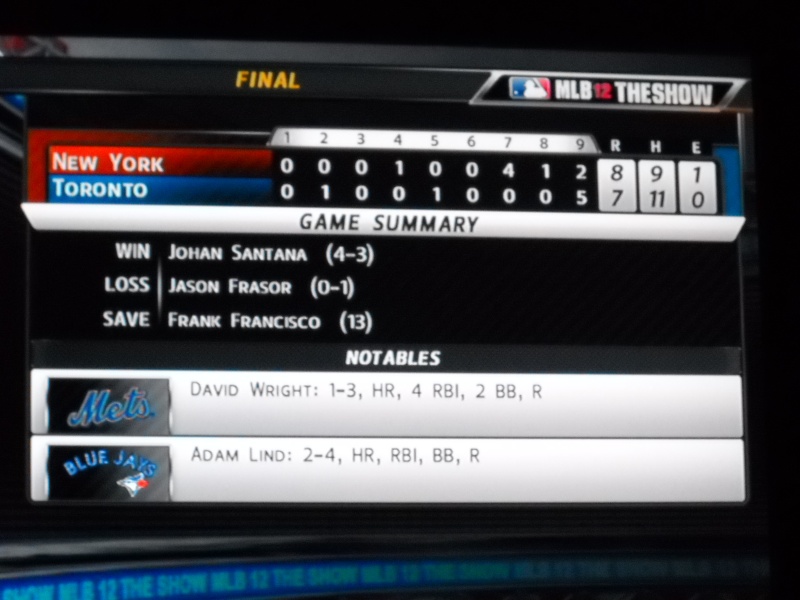 This should bring my record to 1-5 this season but I am pitching with Halladay next so that should mean another victory

GM Stephan Petersen
Series with the Rays got underway yesterday and concluded tonight. here are the results:
GAME 1:
GAME 2:
GAME 3: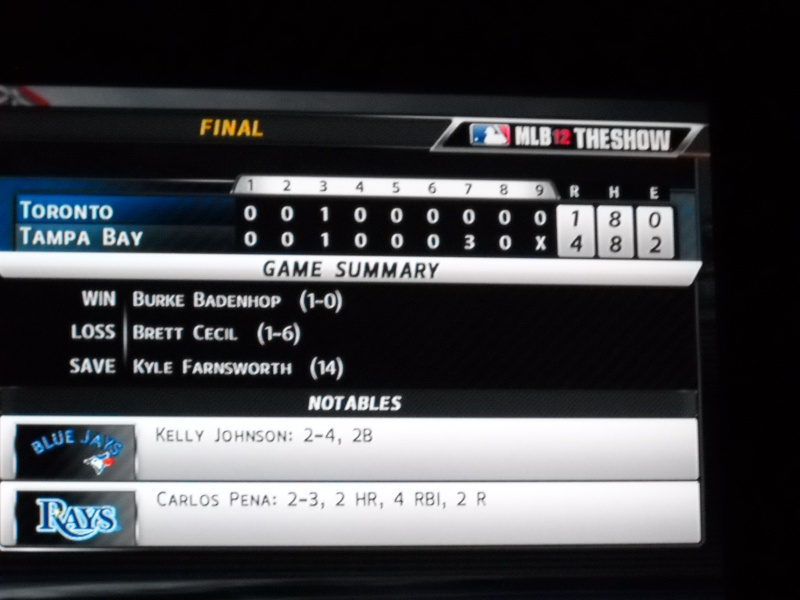 So a pretty good series for me taking 2 of 3 total but it was a really bad series for my offense. only 5 runs and 17 hits on the series. Way too many of our hits came as 2 out singles. and I got caught stealing far too often. better luck next series when I face the lead best Rangers.
GM Stephan Petersen (3-6)
Here are the results from my series with the all powerful Rangers:
GAME 1:
GAME 2:
GAME 3:
The series didn't start as planned for me as I opened with a loss charged to Ricky. I left him in just an inning too long. The second game was tough to play, lots of yelling at my TV when I allowed a 9-3 lead slip away but for once I took the win in extras. And the final game was basically a guarantee with Halladay on the hill

My offense has been on a roll lately as we registered a total 23 runs and 34 hits in the series! Next up: the Orioles
Here are the results from my series with the Baltimore Orioles:
Game 1: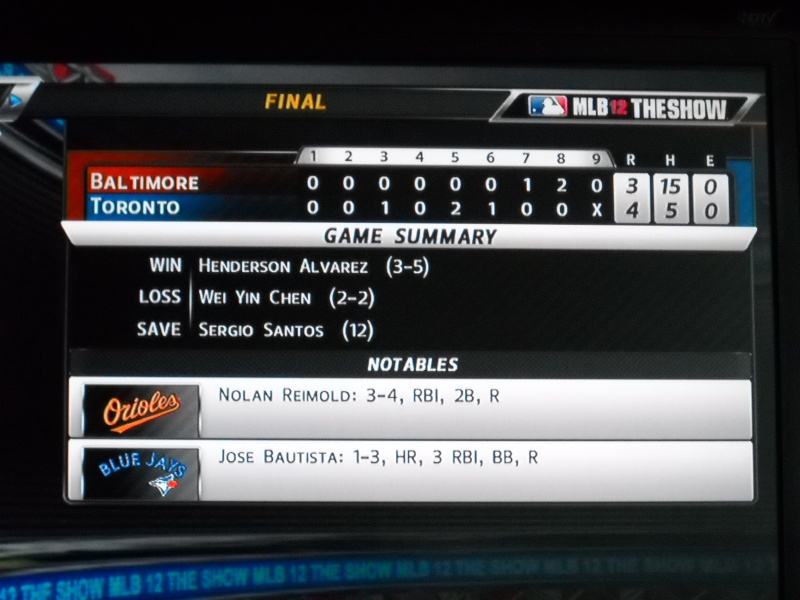 Game 2: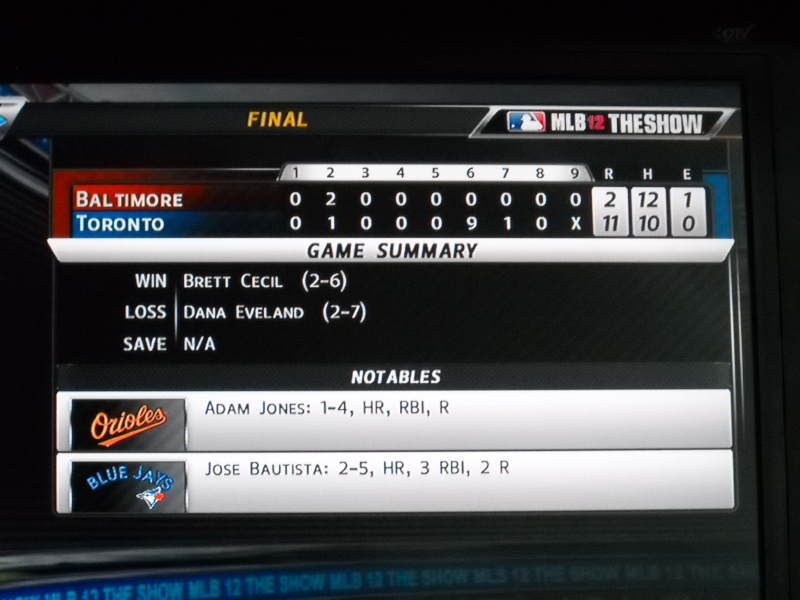 Game 3: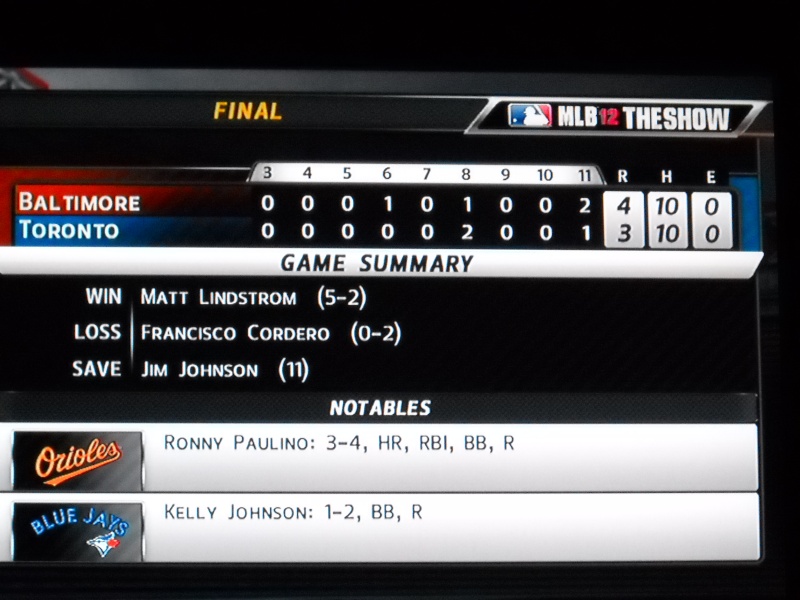 For the third straight series I went 2-1 so my record should now be a respectable 7-8 which I am fairly happy with. My only loss was in extras so I'm feeling confident going into my final series with the red sox

Here are the results from my final series with the Red Sox:
Game 1:
Game 2:
Game 3: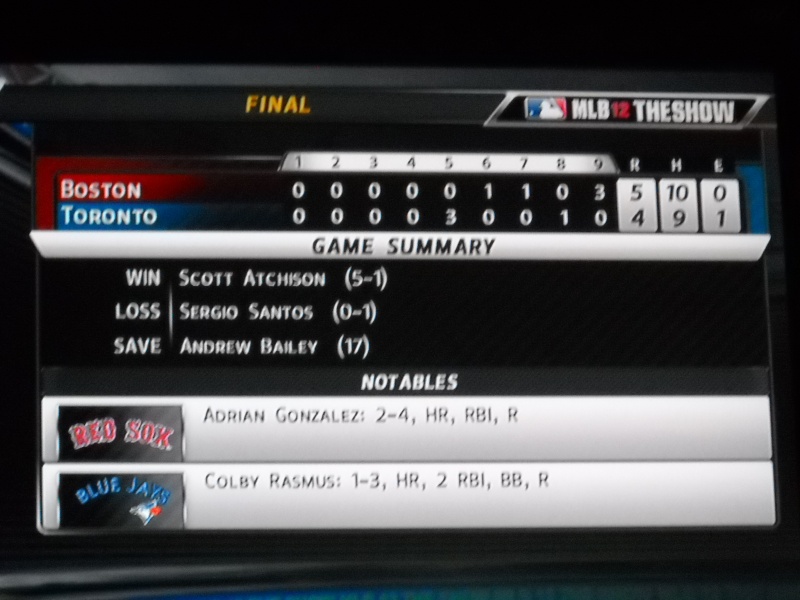 With that I have successfully concluded my first season with you fine gentlemen

My final record is 8-10 which I feel fairly happy about considering this season started a little rough for me. I also had a couple close games including my final game here where I blew a 4-2 lead in the 9th. My team is hitting .252 which is only .004 lower than the team was hitting when I took over. I look forward to seeing how you guys do
---
Permissions in this forum:
You
cannot
reply to topics in this forum